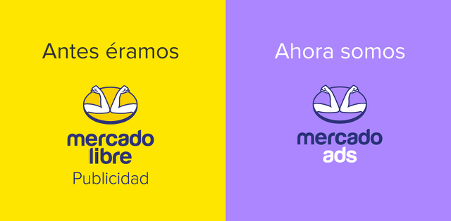 Buenos Aires, September 30, 2020 - Mercado Libre relaunches its advertising platform, Mercado Ads, launching brand identity and new products. Under the slogan "Power your business where everyone buys", Mercado Ads reaffirms itself as the strategic advertising partner for brands, agencies and sellers who want to accelerate their business.
"The great advantage of this platform is that in Mercado Libre millions of users browse and buy products every day. With this in mind, we design branding & performance solutions for each stage of the purchasing process, analyzing user behavior so that brands can reach them in the most effective way, "said Fernando Rubio, Vice President of Mercado Ads. "We want to accompany brands, agencies and sellers to reinvent themselves and accelerate their growth in the digital world. The prominence of e-commerce in the advertising market is accelerating and both large brands and media agencies as well as SMEs have a great opportunity to exploit and enhance their growth ", he added.
According to a GFK study, 85% of internet searches are made in a marketplace, which shows that users are on platforms and brands have a great opportunity to meet them. Thus, e-commerce is located in a preferential place and becomes the protagonist of the advertising industry in digital media: the penetration of e-Commerce already represents 6% within the region, growing at very accelerated rates.
Mercado Ads is a relevant medium for both Branding and Performance strategies. According to a study carried out by Kantar, Mercado Ads stands out for its effectiveness as a Branding medium, being 244% more effective in brand building than other digital media. At the performance level, it generates an average of 25% more sales in campaigns.
Mercado Ads solutions and offer
Branding
To enhance the experience and knowledge of brands in the online and offline channel, Mercado Ads offers Branding solutions, with a wide variety of products that adapt to the needs of each advertiser:
Video:

New video billboard inside the home of Mercado Libre. Through this Branding format, brands will be able to tell their stories to the millions of users who visit the main page of the platform with purchase intention.

Audience Deals:

With the power of Mercado Libre's buying audiences, brands can access these users in other media outside the platform.

Brand Lift:

Studies for top brands in order to measure variations in the post-campaign brand positioning.

Brand Lab:

Disruptive 360 ​​advertising proposals for top brands together with the creative agency MediaMonks

Certifications:

Branding certification program, so that brands and agencies can be trained to develop a brand strategy within an ecommerce.
Performance
To drive sales, Mercado Ads has Performance solutions within the Mercado Libre ecosystem. The product developed is Product Ads, through which the advertiser's publications are transformed into advertisements.
Insights and data
Within its team, Mercado Ads has an Insights and BI area that performs reports and generates data on user behavior, information about the purchase journey made within the platform and how it interacts with different products and brands, which it is key to the decision making of our advertisers.
ABOUT Mercado Ads
Mercado Ads is Mercado Libre's business unit dedicated to the development and commercialization of advertising solutions within the platform. It offers Branding and Performance solutions throughout the purchase journey, so that brands, agencies and sellers reach millions of buyers who are discovering and buying every day. In addition, it provides exclusive Data and Insights on user behavior, allowing greater effectiveness in campaigns.
Mercado Ads integrates the Mercado Libre ecosystem, the leading e-commerce technology company in Latin America that serves millions of users and offers solutions so that individuals and companies can buy, sell, advertise, send and pay for goods and services by Internet.
More information: mercadoads.com